Ms. Macintosh, step AWAY from the scale!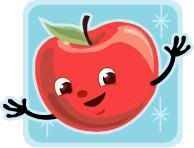 I'm an apple girl when it comes to body composition. This means, unlike your pears out there, I gain my weight in the midsection and not in the lower half of my body. With this comes blessings and curses, I have learned. One positive thing, I can hide weight gain better. This is especially true if you are blessed in the chest region. A negative, it is possible for people to think you are pregnant, when in fact you just have a fat gut. And, trust me, this is not a good thing for the ego. Then there is the whole heart disease flag that waves over me thanks to my genes and my appley-goodness.

So, when I started with my personal trainer 5 weeks ago, she warned me that the first area to gain will be the last area for it to come off. She also advised me to stay off the scale for the first few months at least. I did remember that first thing, although the scale thing is near impossible for me. It's like clockwork, I roll out of bed, use the "facilities" and then hop on the scale. I guess I've done Weight Watchers one too many times, but the scale is something I obsess over quite a lot.

My kickboxing instructor pointed out a lady in our class the other night asking her how many dress sizes she had lost so far. The lady proudly announced that she'd lost two, then her face immediately fell as she said, "but I haven't lost any weight on the scale." And, I wanted to groan with her. There I was, in week 4 of the hardest workout program I have ever done in my life, and I was stuck in the same place on my scale as well.
"Don't be silly!" My instructor jumped in, "don't you know that when you're over 35, it isn't what the scale says, it's how GOOD you look and feel in your clothes?"

I should have listened to Ms. Kickboxer, but I did not. I started to feel depressed. So, today when I met with my trainer, I told her I wanted to go ahead with my measurements hoping that would encourage me about the scale. I am very glad that I did.

First things first, thanks to a monthly "visitor" and lots of water retention, I actually GAINED weight on the scale (under a pound, but STILL). But, that's when things turned around for me. Here's the breakdown:


Pounds of fat lost: 8 (all put back on in lean muscle mass)


Total inches lost: 4 INCHES!


Lean muscle mass: Was 135, now is 143.8


Total body fat: Went down from 37.1% to 25.9%!!!


My tricep is down 6 INCHES!


My thigh is down 3 INCHES!
In short, my failure to show numbers on the scale did not mean a failure after all. In fact, I feel quite successful! I lost 2-3 percent of my body fat and replaced that with lean muscle mass. My instructor says I'm actually right where I need to be in terms of muscle, and now we'll work on exercises that focus on my core and getting leaner.
I write all of this not to brag. In fact, putting some of these numbers up here is a little embarrassing. But, I felt compelled to do this because I know there are a lot of you "apples" out there who are scale watchers as I am. Don't let those numbers fool you! Take it from me, if you work hard, it will show. There are 4 less inches of me today and that's proof!